About ecoRevo
ecoRevo® is an earth-friendly revolution aimed at a sound material-cycle society with recycled tiles.
ecoRevo's opportunity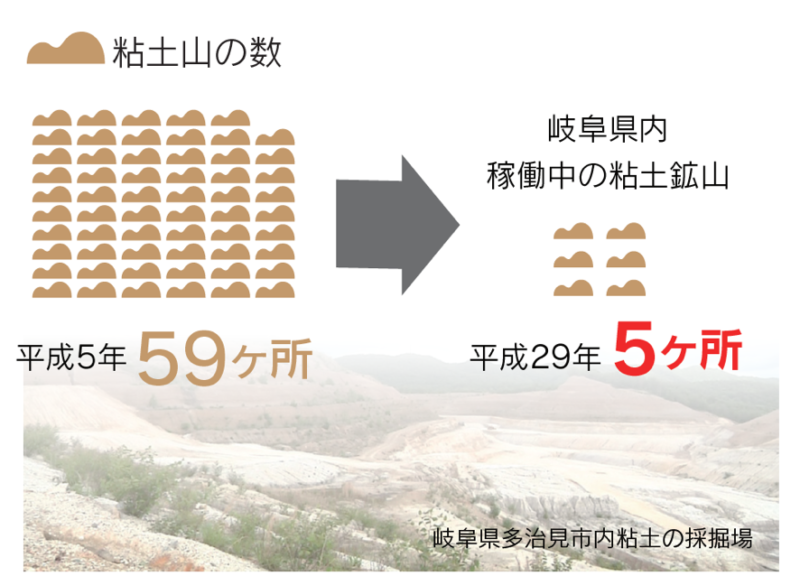 The issue with tile resource depletion
Tajimi City, a place that has been famous since ancient times for producing ceramics such as Mino pottery, has long boasted about being one of the leading producers of tile inside Japan. As a result of a sluggish economy and the closure of mines due to clay depletion, the development of alternative raw materials that do not depend on natural materials has become an urgent matter.
---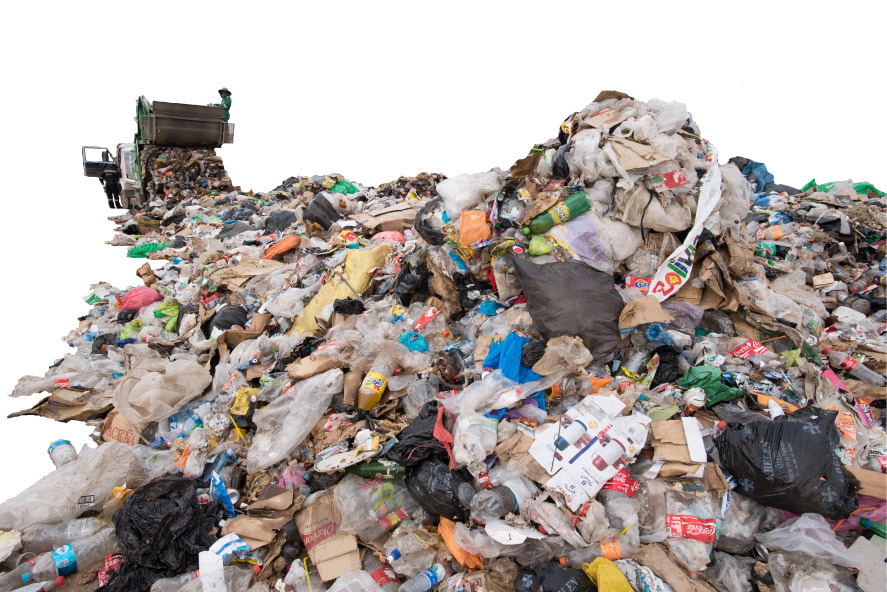 Japan's disposal situation
As of March 2018, there are 1103 waste disposal facilities and 1651 final disposal sites in Japan; furthermore, the country has the most disposal facilities and final disposal sites in the world. It is said that up to 70% of the world's incineration sites are in Japan. Due to Japan having such a small land area, "disposal of garbage = burning" has become the mainstream. At the same time, it is also said that because the country discharges a large amount of trash, Japan also has some of the world's best technology to help reduce the amount of garbage. The foremost leading technology is the melting furnace.
---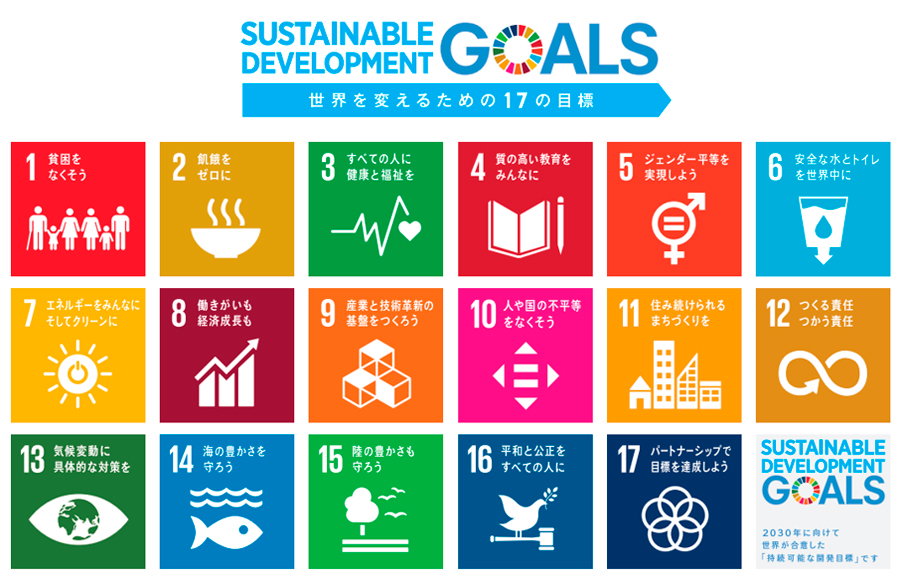 SDGs and growing environmental awareness
In September 2015, all United Nations member countries (193 countries) decided to protect our planet by eliminating extreme poverty, inequality and injustice over the next 15 years in order to realize a better future; this plan, which was adopted by the United Nations, was named "Agenda 2030". This plan is part of the "Sustainable Development Goals", which is often referred to as SDGs. In addition to challenges that were not fully addressed within the Millennium Development Goals, and by addressing 17 goals and 169 targets, such as the serious environmental issues discussed at Rio + 20, SDGs are an epic challenge to realize a world where "no one is left behind".
The melting furnace
The melting furnace is a disposal processing method that melts, reduces, and detoxifies combustibles, non-combustible and bulky wastes from households, glass waste, metal parts and sludge from factories, ash (cinders) emitted from incinerators, as well as infectious and medical-related waste from hospitals. This is done at extremely high temperatures between 1300℃ and 1700 ℃. Due to high-temperature melting, dioxins are hardly generated. Molten slag, a black, glassy substance that has been detoxified, is emitted after melting. However, this molten slag is recycled as roadbed material or a source of concrete.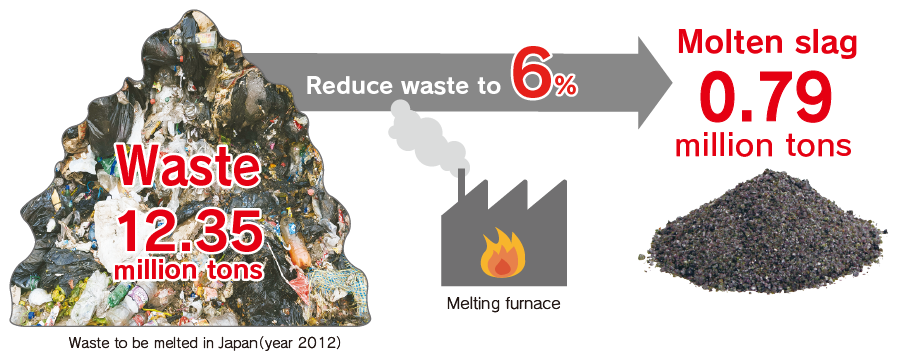 The advantages of melting
Operating expenses and installation costs compared to the incinerator will end up being higher; however, dioxin measures are reliable, and there is also a superiority of recycling emitted materials as raw material. Instead of using incinerators, many places are being introduced to the melting furnace. This trend is predicted to continue in the future, mainly because there are few remaining years at final disposal sites, and recycling is being sought out as much as possible.

---
Our company's highly recommended melting furnace: Kubota rotary surface melting furnace (KSMF)
[Merit] Waste plastic becomes fuel!
Marine plastic is becoming a worldwide problem. KSMF is the only melting furnace that can handle plastic as fuel. By taking 30% of plastic among all submitted waste, it is possible to perform melting without using fossil fuel. To solve the plastic waste problem, we believe that this is the most effective method
Molten slag tile
Turning municipality waste facilities into raw material factories
Concept: Returning items from municipalities back to municipalities.
We are developing products using molten slag from Tajimi City and Toyota City, which have municipalities with melting furnaces.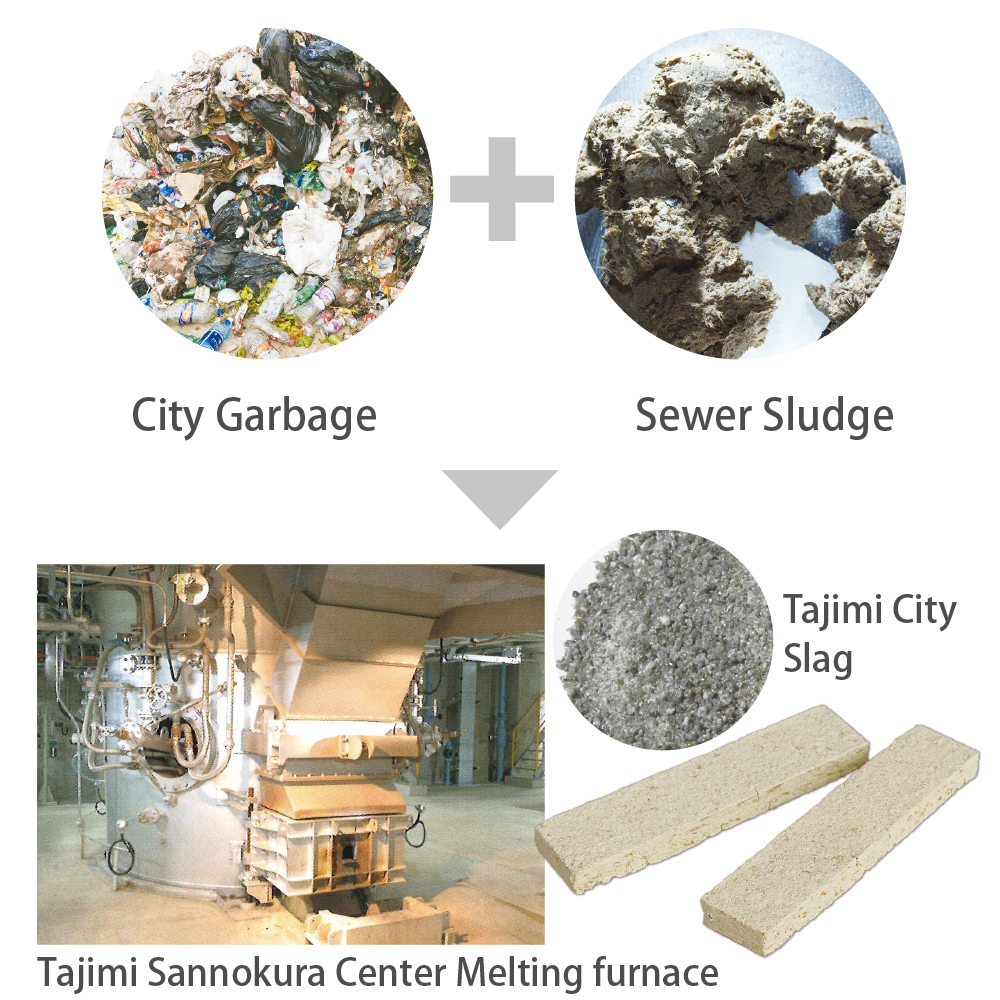 Tajimi City slag tile
---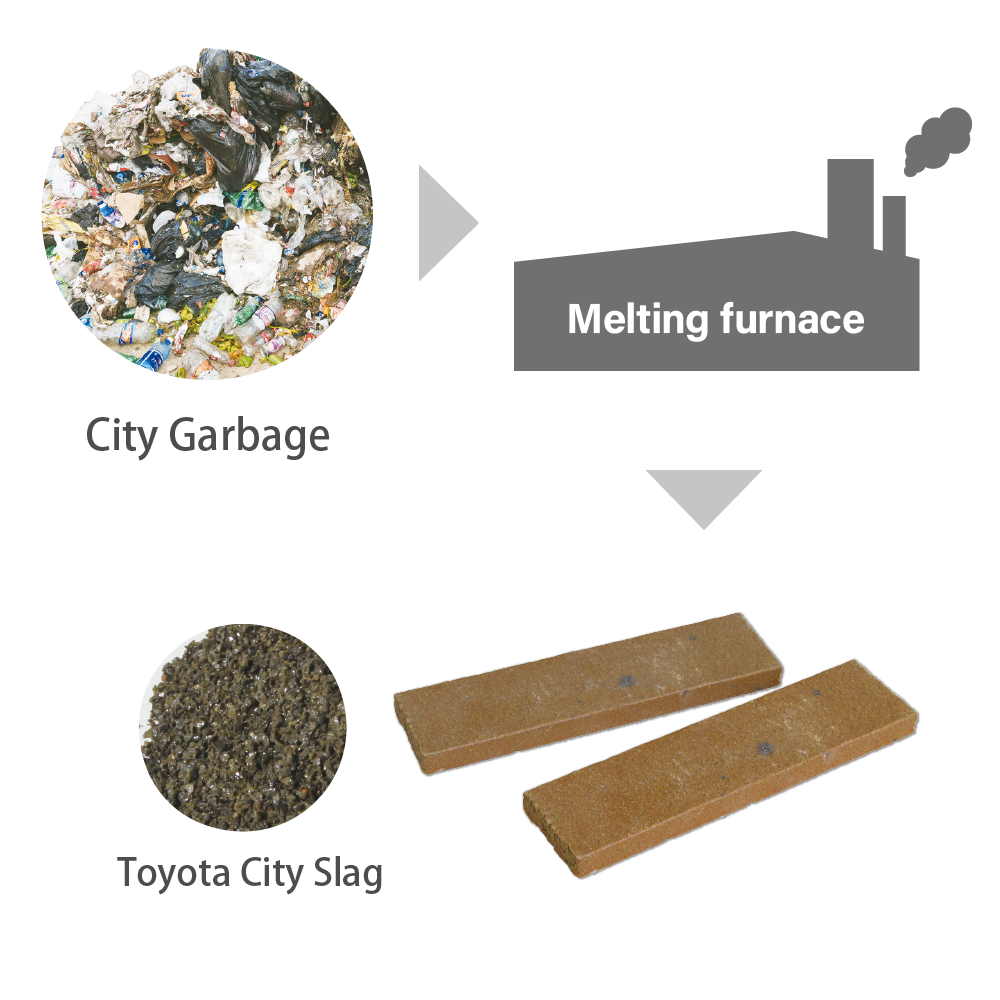 Toyota City slag tile
Slag tile construction cases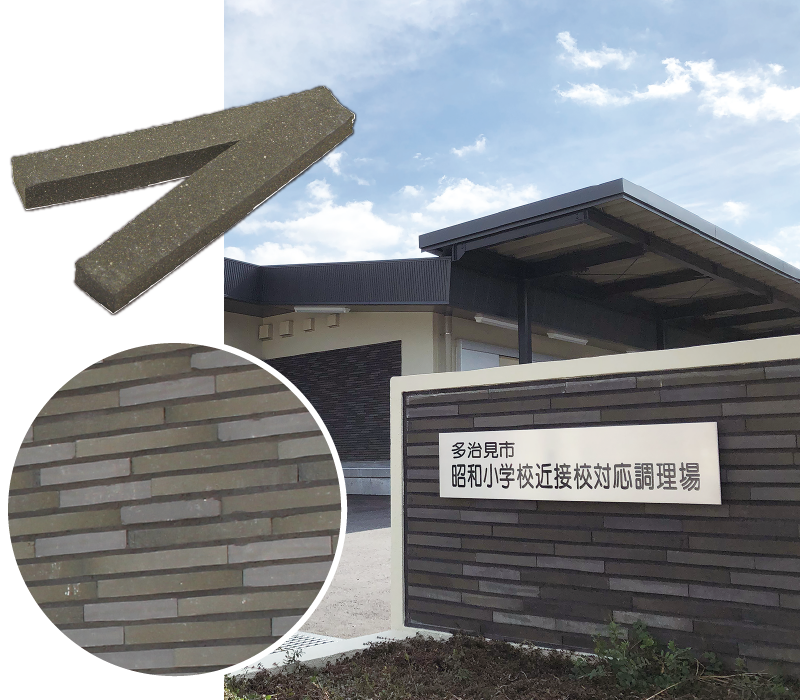 Tajimi City Showa Elementary School
Unglazed tile
30×200×t15mm
30×300×t15mm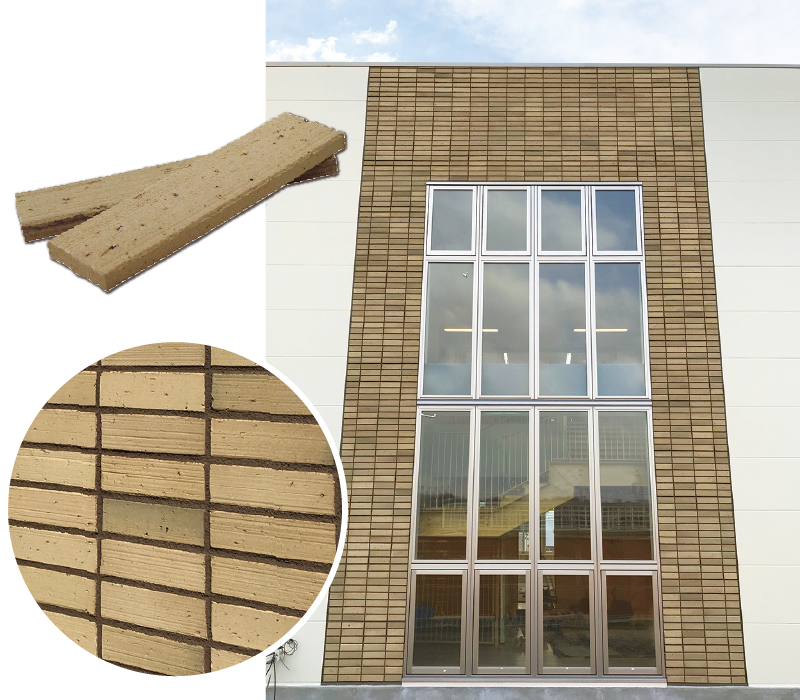 Tajimi City Atago Kindergarten
Unglazed tile
---
Product lineup
ecoRevo can reduce burning costs by 30% percent thanks to the possibility of low-temperature and short-time firing
Achieving a recycling rate of 95% or more using slag as the main raw material (50%)
40×60×t10mm (Toyota City slag used)
54×62×t8mm (Toyota City slag used)
60×227×t15mm (Tajimi City slag used)
Corporate tile waste
Making tiles from industrial waste and using industrial waste that is in need of treatment at a major company as a raw material
Concept: Return items from companies back to the companies
We carry out product development by using the industrial waste from companies.
Example: crushed and broken glass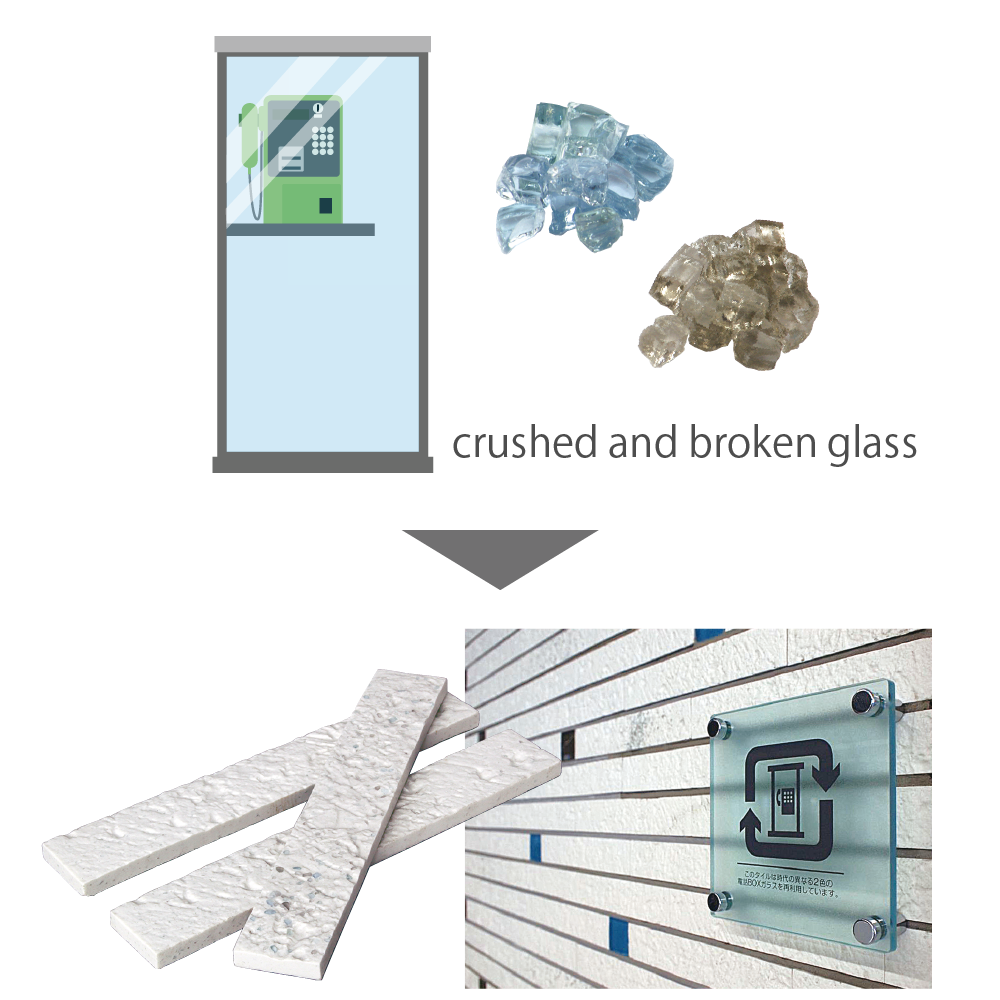 ---
Example: waste ceramic material that contains organic matter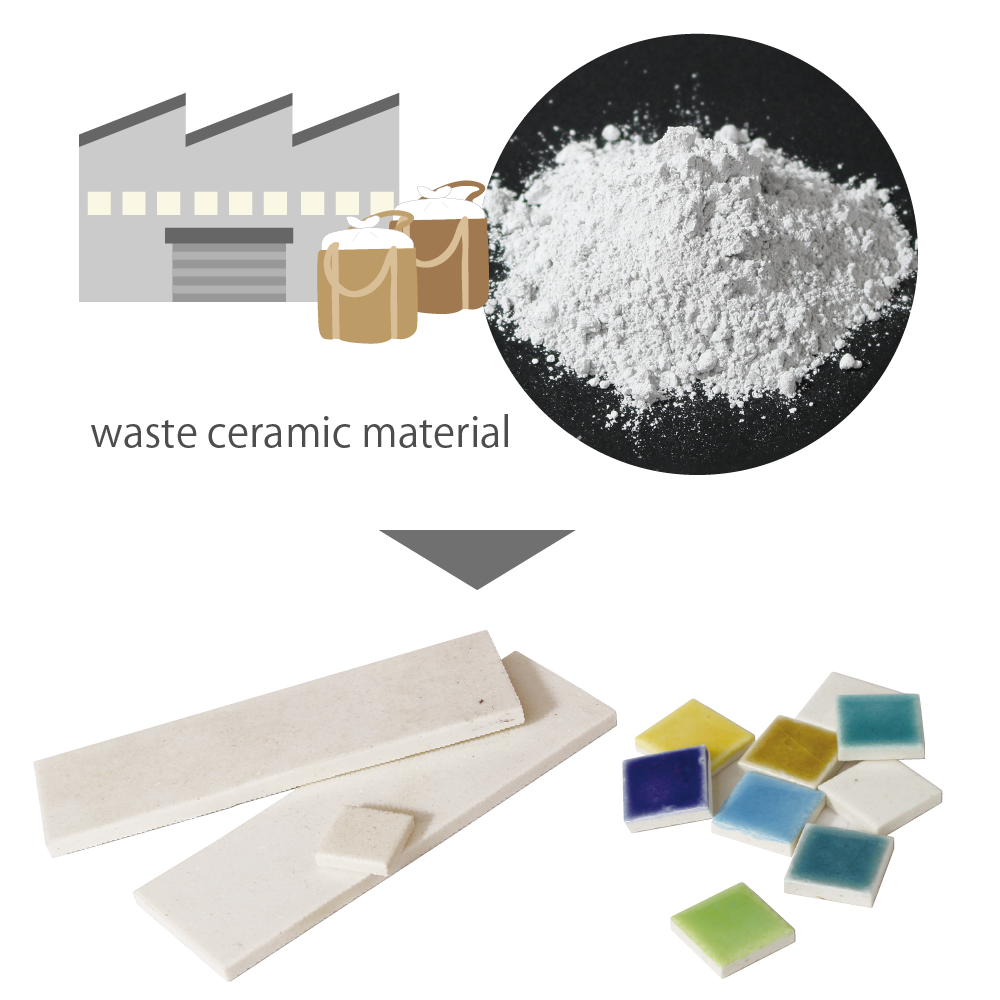 ---
Example: soot and dust emitted from a biomass power generator
* Biomass power generation: a system for generating electric power by burning organic matter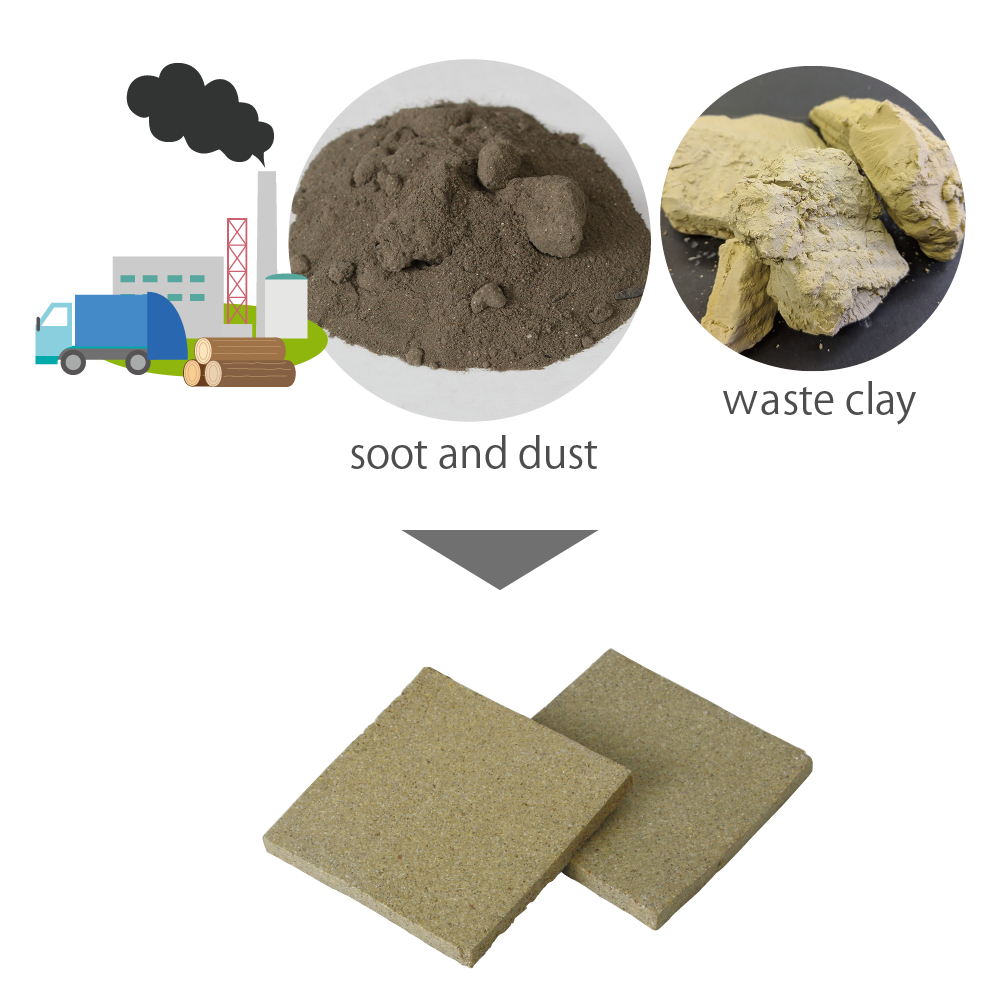 Cases of corporate waste construction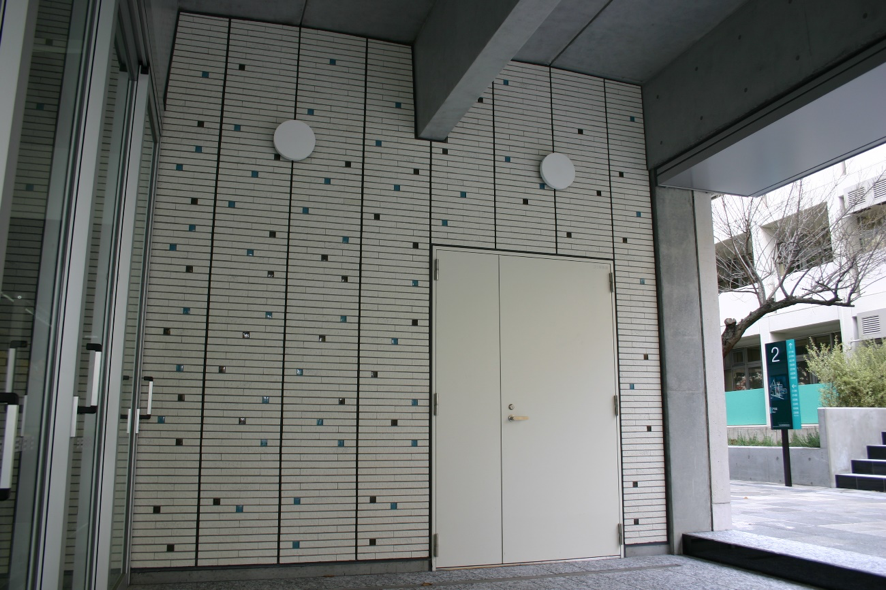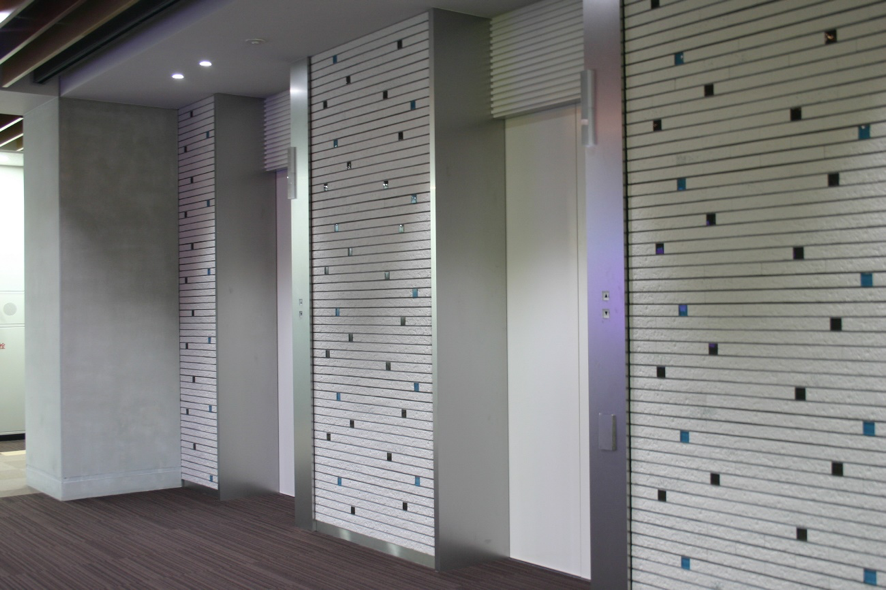 ---
Product lineup
22×22×t8mm
(Corporate waste: used ceramic waste)
40×40×t10mm(100% glass waste)
40×240×t10mm
(Corporate waste: used glass waste)
100×100×t8mm
(Biomass power generation dust and soot used)
Future outlook
Aiming for full-scale production through stages of demonstration experiments!
Step 1 : Prepare a mass-production system
By taking advantage of the power of information and the personal connections within trading companies and in cooperation with local manufacturers, we establish a system for mass production in two types of manufacturing methods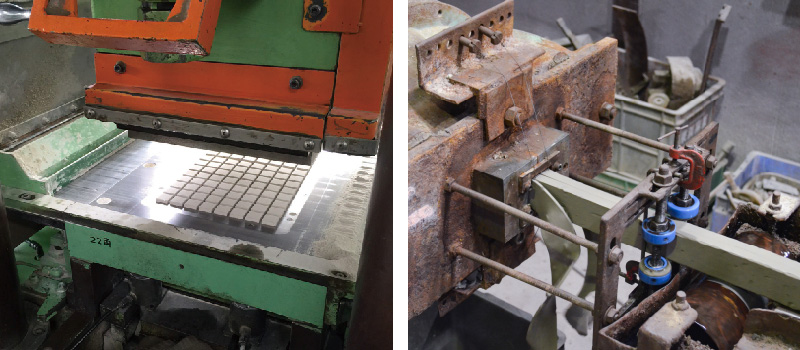 ---
Step 2: Recycle household waste from cities in cooperation with local governments
First of all, Tajimi City and Toyota City are making achievements, and these achievements are being expanded countrywide.
Since tiles with different textures depending on the region can be created, it is possible for us to appeal to environmental cities through our creative tiles.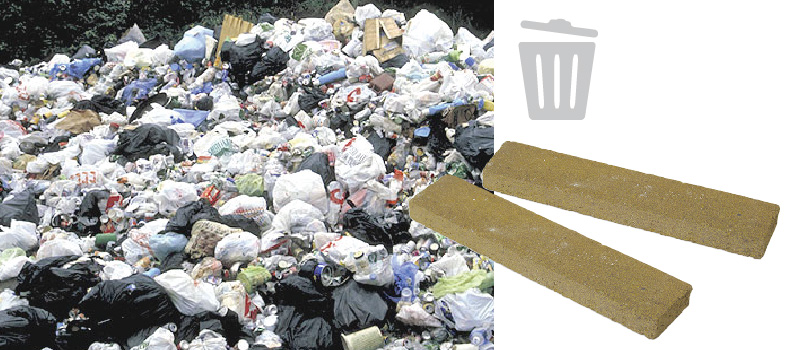 ---
Step 3: Recreate tiles from waste made by major manufacturers
We collect the waste materials that were in need of disposal and return them to the manufacturer as tiles to help promote CSR.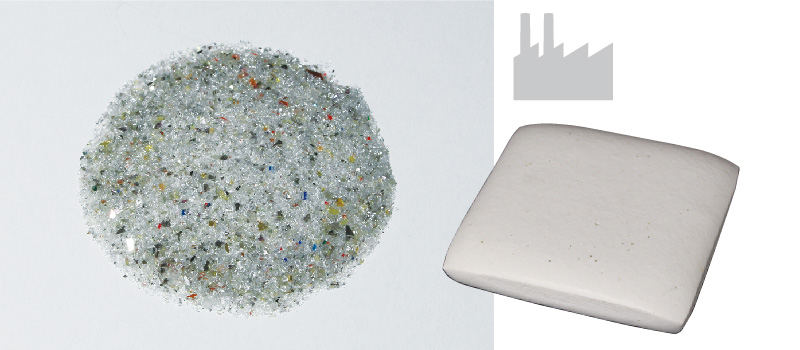 ---
Step 4: Melting contaminated soil from the Fukushima nuclear power plant and reviving it as tiles
During the melting process, toxic substances such as cesium and dioxin can be removed, so the contaminated soil in Fukushima can be melted and contributed to the reconstruction of the region with safe tiles that are made within the city.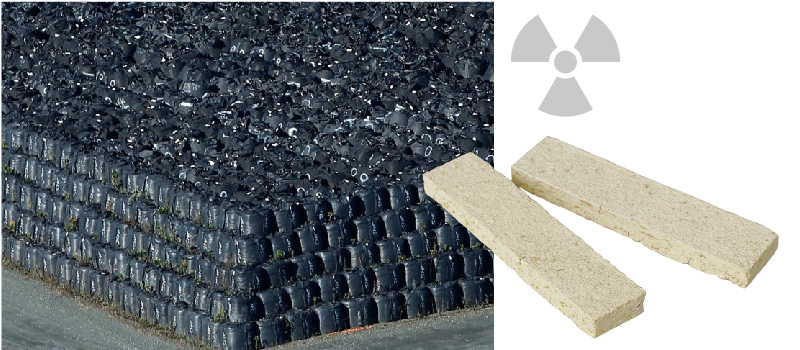 ---
Step 5: Export the technology to developing countries and build a recycling system.
We export technology as a set of melting furnaces and tile factories to developing countries with waste disposal problems, create a recycling-oriented society and jobs, and contribute to regional development.